CAPTAIN DENNIS PEIRIS COORAY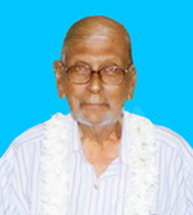 Dennis Cooray was born on 23rd August 1919, and received his early education at Royal College Colombo. Dennis Cooray joined the Ceylon Naval Volunteer Force as a sub lieutenant in 1942, then transferred to CRNVR and was subsequently absorbed to the Royal Ceylon Navy and rose to the rank of Captain. He and Sisila entered married life in 1956 and was blessed with a son, Dayal.
Captain Cooray was a grandson of Sir James and Lady Peiris, a prominent social worker at the time. Captain Dennis Cooray was a founder member of the home. He attended the inaugural meeting held on 30th September 1966 and was invited to serve in the committee. He functioned as Chairman from August 1968 to November 2010.
During his Chairmanship, he attended meetings of the Cheshire Home Foundation in India and London. He used the knowledge he obtained from his association with the Cheshire Home Foundation UK and introduced projects for the disabled at the Cheshire Home, long before similar projects were introduced in Sri Lanka. Among the projects were a Rehabilitation and Family Support Services Programme (to enable disabled people to continue living in their homes), a resettlement programme (rehabilitated a resident back into the community with support to start his / her own business) and a housing project for people with disabilities.
His far thinking, extended beyond Sri Lanka. In 1995, the Dennis Cooray Day Care Centre in Faisalabad, Pakistan, was launched. This day care centre was a result of the help extended by Mr Cooray to the WTO community-based rehabilitation project in Pakistan. Mr. Cooray referred to his visit for the launch of the centre "as one of the most memorable days in his life."
In 1998 he had the very rare privilege of meeting Prince Charles in London, in representing the Home, together with the Resident Irene who were invitees of the LCD. This event was a landmark in his life.
Wherever he was placed, Dennis displayed a rare sense of integrity. He was completely trustworthy; whether he was dealing with sensitive information about people or material resources, which was the success of Cheshire Home Mt. Lavinia. At the time of his demise, he was the Patron of SIR JAMES AND LADY PEIRIS CHESHIRE HOME, Mt. Lavinia and also a Vice Patron of the CRNVR Association, SLNA and Naval Logisticians Association.