OUR BELOVED FOUNDER - LEONARD CHESHIRE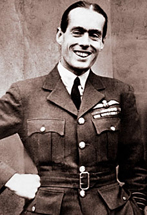 Leonard Cheshire was born on 7th September 1917. His father was the Professor of Law and Bursar of Exeter College, Oxford. He was educated at Chatham House, Stowe and Merton College, Oxford. He joined the University Air Squadron and after advanced training, at the outbreak of war, he received his Pilot's wings. By September 1940 , he was Captain of his own aircraft and the following month he received the first of his three DSOs, for brilliant Leadership skill during a raid over Cologne in 1941 he was promoted to Squadron Leader , and found time to write his first book , Bomber Pilot. His next promotion to Group Captain put him behind a desk for six months and then, after being awarded a second bar to his DSO in July 1943 , he voluntarily dropped rank in order to take command of the well known 617 Squadron (The Dambusters) which provided him the opportunity to implement many private ideas and techniques for target bombing. The raids undertaken by the Squadron for the next year and led by him personally, were demonstrations of incredible daring and courage, earning him in 1944 , the supreme award of a Victoria Cross.
After the war, he augmented his service pension by writing a fortnightly article for a Sunday Graphic in which recurring was the setting up of a service of cooperative settlements for ex-servicemen and women. In 1959 he married Sue Ryder famous in her own right for her work on behalf or sick or disabled of all ages . Leonard Cheshire and his wife Sue Ryder (Baroness Ryder) was blessed with two children , a son and a daughter. Daughter "Gigi" passed out as a lawyer thus contributing a fifth generation of lawyers. Group Captain Leonard Cheshire VC, OM, DSO, DFC was created a Peer in Her Majesty Queen Elizabeth's Birthday Honours List. In 1963 H.R.H.the Duke of Edinburgh wrote in Wilfred Russell's Book 'New Lives for Old' – the Storey of Cheshire Homes. The history of the treatment of the disabled is illuminated by the humanity of a handful of reformers and innovators.
Leonard Cheshire joins that select group and has managed to establish in the face of every kind of difficulty and discouragement a world-wide network of Homes. The Founder passed away on 31st July 1992. Leonard Cheshire who declared the Home open on 19th March 1966, visited the Sir James and Lady Peiris Cheshire Home, Mount Lavinia, Sri Lanka on five occasions during 1966-1992.Services of Remembrance are held at the Home on the birth and death anniversaries.